Horsham's mystery sewage smell 'discourages shoppers'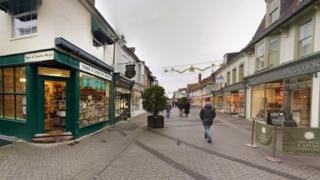 A mystery "sewage-like" smell in a West Sussex town is causing a drop in trade, according to local businesses.
The unpleasant odour has been wafting around the shops and businesses on East Street in Horsham for about a year.
Health food shop owner Vince Cassar said: "We have to keep the door shut because customers complain. I can't understand why nothing's been done."
Southern Water, along with the district and county council, have investigated but were unable to identify the source.
Mr Cassar, of Town & Country Weigh, said: "It smells terrible... it's like someone has taken a toilet out and the soil pipe smell is coming up the road.
"It's putting people off coming up there. I've noticed a drop, and a lot of people have complained."
'No blockages'
Horsham District Council said it had made a number of joint visits to the area with colleagues from West Sussex County Council since early last year and a "faint odour has been intermittently detected".
However, it said it was not at the level that would constitute a "Statutory Nuisance under the Environmental Protection Act 1990".
A spokesman said there was no evidence to suggest food businesses in East Street had not been taking adequate and appropriate care in managing their waste water discharge.
Southern Water confirmed there had been "no blockages or related issues with the public sewerage system".
It said it would continue to work alongside the local authorities to try to determine the cause of the odour.