Tim Peake honoured by Chichester City Council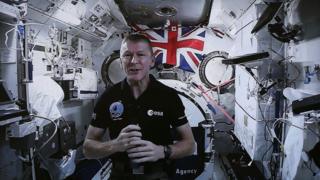 Astronaut Tim Peake has been given the highest honour possible by councillors in his home city.
Chichester City Council voted to grant him the Freedom of the City and to hold a parade to mark his achievement.
Maj Peake boarded the International Space Station (ISS) last year and carried out the first spacewalk by an official British astronaut last month.
The former Army major is spending six months on the ISS where he is doing experiments and educational projects.
Edward Milward-Oliver, a city resident who called for Maj Peake to receive the honour, said it would recognise the astronaut's "inspirational" space flight and the exceptional role mode he provided for children.
He said: "Anyone who can play water ping pong in space as Tim Peake did with a cosmic classroom event deserves the Freedom of the City.
"I think it's the very least that Chichester can do."
Councillors agreed the move at a meeting earlier.
Maj Peake will be given a hand-illuminated scroll at a public ceremony after his return to Earth in June.