Refurbished Hastings Pier to reopen in spring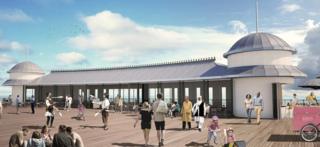 Hastings Pier is expected to reopen in the spring, five and a half years after the majority of the 140-year-old structure was damaged by a fire.
Chief executive of Hastings Pier Charity Simon Opie said the final part of the £14m rebuild would be complete "over the coming weeks".
"Our goal is to have the pier fully operational by mid April," he added.
The Grade II-listed structure was gutted by fire in October 2010 and then damaged by storms in 2014.
Mr Opie said if it was possible to allow the public access to the pier before it is completely operational then "we will want to make that happen".
Most of the money for the £14m scheme came from the Heritage Lottery Fund but more than 3,000 people also bought community shares in the project.
Much of the existing pier has been recycled or reused during the refurbishment of the structure, which will include funfair rides, a mirrored heritage centre and restaurant.
The Victorian pier opened in 1872 but closed in 2006 amid fears it was unsafe.
Up to 95% of the structure was damaged in an arson attack in October 2010 following years of neglect.
Two teenagers were arrested after the blaze but the Crown Prosecution Service said there was not enough evidence to bring charges.