Part of Brighton's West Pier collapses after storm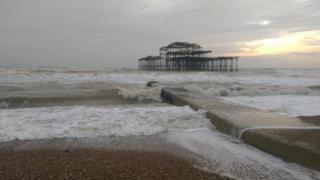 Part of Brighton's ruined West Pier has collapsed in the aftermath of Storm Imogen.
The pier, which is not maintained and was shut in 1975 after being deemed unsafe, burnt down in 2003.
In storms in February 2014 a major part of the derelict Grade I listed pier collapsed, splitting the former pavilion into two sections.
The West Pier Trust said a small section collapsed earlier after high winds hit the south coast on Monday.
The trust has said more collapses could follow.
Part of the derelict Grade I listed pier's eastern side crumbled into the sea in January 2013, following cold weather conditions.