Lawyer drops Huw Merriman MP harassment claim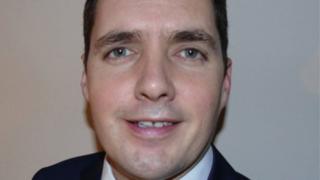 A lawyer who claimed she was harassed by a married Conservative MP has dropped her £250,000 case.
Solicitor Patronia Campbell had claimed she was bullied by Sussex MP Huw Merriman after a one-night stand in 2011 when they worked at a London bank.
East London Employment Tribunal had heard her claims she had been unfairly dismissed, harassed and victimised.
The Bexhill and Battle MP said "nothing sexual transpired" between them and her claims were "untrue and contested".
Ms Campbell had made the claims against Lehman Brothers International, managing director Tim Parsons and Mr Merriman, who was managing director at the time.
She insisted she was unfairly discriminated against at the bank after she refused to start an affair with the 42-year-old, who was elected to parliament in last May's general election.
'Claimant seen sense'
But on the seventh day of the tribunal, Ms Campbell's representative Jack Feeny told the hearing all allegations were being withdrawn.
Representing the respondents, James Laddie QC said: "We are delighted the claimant has finally seen sense.
"We are not making any further applications, we have agreed not to pursue any claims for legal costs.
"My clients are happy to be able to get on with the rest of their lives."
He had previously accused Ms Campbell of playing the role of a "femme fatale" and going after a "big payout".
Following the decision to drop the case, Mr Merriman said: "Today, following an application to dismiss a large part of the case by our legal team, I was pleased to learn that the claimant has decided to fully withdraw her case and all the allegations without reservation.
"No money has been paid to the claimant."