East Sussex budget cuts and 3.99% tax rise backed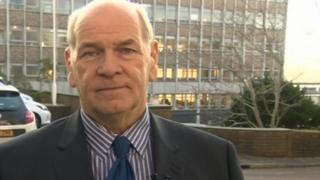 Spending plans that will see about £20m of cuts and a 3.99% increase in council tax have been approved.
Conservative-run East Sussex County Council (ESCC) passed a £369m budget for 2016-17 at a meeting on Tuesday.
Council leader Keith Glazier said they needed to make the savings but the tax rise would "mitigate the impact on vulnerable residents".
The Hastings and Rye Labour group described it as a "grim day" for voluntary groups and residents.
The council tax rise, which includes a 2% social care precept, is equivalent to 92p a week extra for a Band D property.
Amendments tabled by the Labour and Liberal Democrat groups to reduce some of the cuts to adult social care and grants to voluntary groups were defeated.
ESCC said it had saved more than £78m since 2010 but would have to make a further £70m savings by April 2019.
'Toughest financial climate'
Mr Glazier said: "Having already had to save £78 million since 2010, we have cut our spending back to the bone, leaving us with very little room left to manoeuvre.
"The council tax increase gives us a little bit of leeway to preserve funding for some adult social care services which we would otherwise have had to stop - but the cuts to our funding mean we can't avoid making savings which will affect the community.
"We believe the budget which members have approved does as much as possible for people in East Sussex in the toughest financial climate we've ever seen."
All the political group leaders at the council sent a joint-letter to the government last month saying the county faced cuts that would significantly reduce the quality of life for many people.
The government said ESCC's spending power was forecast to grow by 1%. It also gave the authority a £2.7m transitional grant above its original 2016-17 funding settlement.