George Bell: Former wartime bishop 'abused girl in cathedral'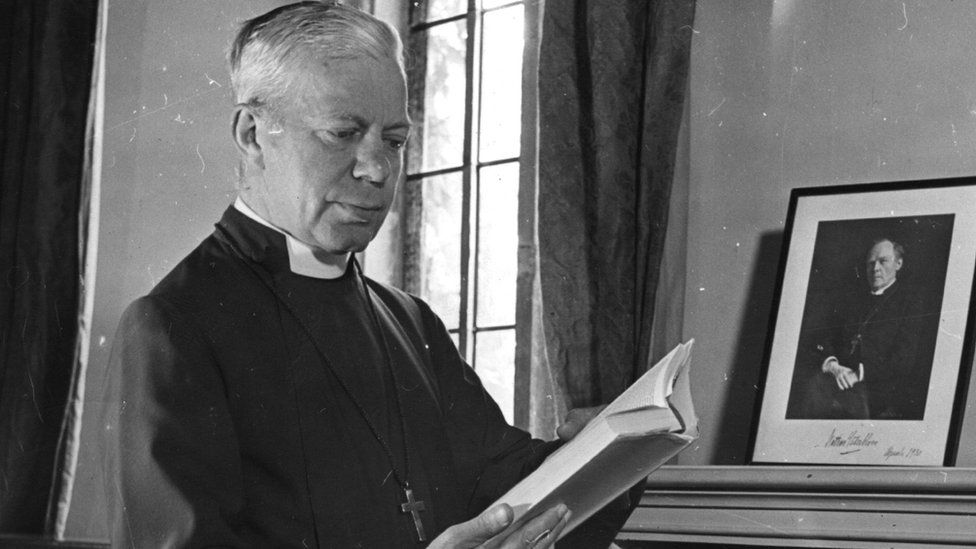 A woman who claims she was abused by former Bishop of Chichester George Bell says he molested her in the cathedral as she sat listening to stories.
The woman said she wanted to speak out about his "awful" treatment of her after several high-profile figures defended the bishop, who died in 1958.
"He might have been a hero, but heroes don't always do good things," she said.
The Church has settled a civil claim in connection with the allegations and has formally apologised to her.
The woman said the Rt Rev George Bell began abusing her when she was five as a relative, who was a church employee, took her to Chichester cathedral.
"It started off with him wriggling about with me on his lap. He read the story and then gradually it got more personal, he started to touch me," she added.
"When I was getting to about nine you realise these things aren't quite natural. Luckily enough my father moved away and we all went with him."
She said the abuse had affected her relationships and may have led to periods of depression.
"He was awful to me. I can't say he ruined my life but he didn't make it easy."
The woman's allegations were first made in 1995 but not investigated or referred to the police.
In October, the current Bishop of Chichester, Dr Martin Warner, issued a formal apology after a civil claim was settled.
The diocese said investigations found "no reason to doubt the veracity of the claim".
Journalist Peter Hitchens has criticised the way the case has been handled, saying the church should have taken more care because the bishop's "reputation is so important".
"I have always been concerned about the church's decision to publicise these allegations as if they were proven facts, which they are not.
"They may be true but they should be treated as allegations," he added.
The Bishop of Durham, Paul Butler, lead bishop on safeguarding, said the decision to settle the case was taken on the "balance of probabilities" and the overriding goal was to "search out the truth" regardless of its impact.
Bishop George Bell was well known for championing the people of Germany during World War Two and made a speech in the House of Lords in February 1944 opposing Churchill's policy of saturation bombing.
Related Internet Links
The BBC is not responsible for the content of external sites.