Brighton & Hove City Council proposes 3.99% council tax hike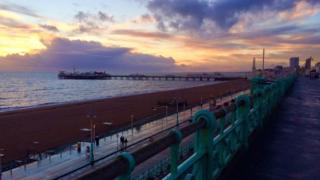 Brighton & Hove residents could see a 3.99% council tax rise under final council budget proposals for 2016/2017.
The city's Labour-run council aims to save about £20m this year as it attempts to close a £68m funding gap by 2020.
Councillor Warren Morgan blamed "massive Conservative cuts to funding, and rising social care pressures".
But leader of the opposition on the council, Geoffrey Theobold, said: "There is still a long way to go."
Brighton & Hove City Council said the plans were for four years for the first time to give "clarity and certainty".
'Reality'
The proposed council tax increase of 3.99% includes a government-sanctioned extra 2% to fund the "increasing demands and cost of adult social care", the council said.
The financial plans will be set out at a Policy and Resources Committee on 11 February ahead of a meeting to set the budget on 25 February.
Cllr Warren Morgan, leader of the council and chair of Policy and Resources Committee said: "The reality is that no organisation can lose 30% of its funding and continue to provide the same services."
"However this budget takes a longer term view... making sure that we protect the funding that supports those who need it most while looking for new and innovative ways to raise funds ourselves and provide good services at lower cost."
Leader of the Opposition on the council, Geoffrey Theobold, said; "We are pleased the Labour Administration has begun to embrace some of the reforms and modernisation measures that we have been advocating for a number of years. However, there is still a long way to go."
Savings proposals for 2016/17 include:
Support Functions - £2m
Management cost reductions -£1.9m
Learning Disabilities reviews - £3.58m
Savings from approved changes to Council Tax Reduction scheme - £540,000
Special Educational Needs review - £500,000
Youth Services review - £400,000
Efficiencies in Cityclean staffing costs - £450,000