Base jumpers leap off Brighton i360 tower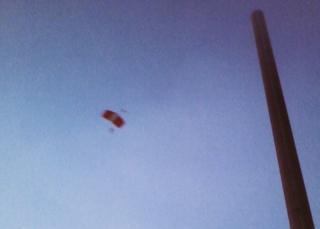 Five people climbed the i360 tower in Brighton before base jumping from the top, the attraction's sponsor said.
It is understood the intruders opened a lock at the 531ft (162m) tower on Brighton seafront at 07:30 GMT.
A spokeswoman for sponsor British Airways i360 said: "We will be reviewing security levels with our contractors in light of this incident."
The tower, directly in front of the derelict West Pier, is still under construction.
Sussex Police said a group had broken in to the site via the King's Road arches.
Permanent security measures at the completed project will include high security walls, alarmed doors and CCTV.
"[These] will make breaches of this type become increasingly difficult," the BA i360 spokeswoman said.
The seafront viewing platform will open in the summer.