Probe into car park firm Gatwick Sky Parking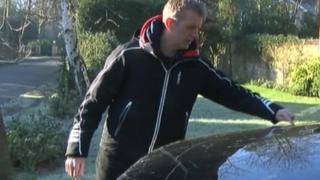 A car parking company near Gatwick Airport is being investigated by Sussex Police after customer complaints that their cars were damaged there.
Several Gatwick Sky Parking customers have told police their cars had thousands of pounds worth of damage, with vehicles severely scratched and covered in mud.
No-one was available to comment from Gatwick Sky Parking.
Gatwick Airport has said the company is not on its approved operator list.
Gatwick Sky Parking operates by meeting customers at the airport, taking their car and parking it elsewhere, then returning it to them when they land.
Its website says cars are parked in a secure area.
Customer Ian Mullen said his car had damage worth £7,000 with scratches and both back doors and the driver's seat "caked in mud".
He said: "I'm almost certain it was not parked in a secure environment like they say it was with CCTV cameras etc., and I also have some deep suspicions it had been used by individuals."
Another customer, Mirriam Nichols, said she faced a repair bill of more than £2,000 with four scratches on the bonnet.
She said: "When you pay your money you expect your car to be looked after and not returned in this state."
Gatwick Airport issued a statement which said it had no relationship with Gatwick Sky Parking, the company was not part of its Approved Operator Scheme and it was therefore unable to comment further.
The statement said: "We advise all passengers who are planning to park at the airport to use Gatwick Airport's own on-site parking facilities.
"Gatwick Airport also runs an approved off-airport parking scheme through which we endorse other parking companies in whom we have confidence."