George Bell: School to remove bishop's name after abuse claim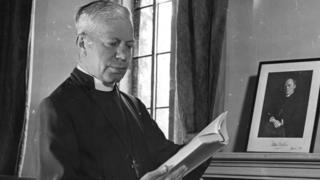 A Sussex school named after a former Bishop of Chichester alleged to have sexually abused a child in the 1940s and 1950s is to be rebranded.
The Diocese of Chichester paid compensation and apologised after sex abuse allegations were made against the Rt Rev George Bell in a civil claim.
He was Bishop of Chichester from 1929 until his death in 1958.
Bishop Bell C of E School said it was looking at two new names - St Edward's College and St Catherine's College.
In a statement, the Eastbourne school said it was reviewing its name as part of a rebranding exercise that started in 2014.
It continued: "But the recent news about Bishop George Bell did accelerate the process.
"Accordingly, we anticipate making an announcement on a new school name soon."
The school has asked parents of pupils to rate their preferred choice of name online.
'Grave mistake'
Allegations against the Rt Rev George Bell were first made in 1995 but were not investigated or referred to the police.
In October, the current Bishop of Chichester, Dr Martin Warner, issued a formal apology after the Diocese of Chichester settled the civil claim.
The diocese said investigations into the sex abuse allegation found "no reason to doubt the veracity of the claim".
But newspaper columnist Peter Hitchens told BBC Sussex it was a "grave mistake" for the school to "rush to judgement on the matter when there simply is not any actual tested evidence" on Bishop Bell's guilt.
He said: "You go back to the statement which the church issued in October and at no point can you find the words 'George Bell abused a child'.
"It is very cleverly worded to give this impression, but it never says so and it doesn't say so because the church has absolutely no proof that this is the case."