Hailsham nail bar owner tried to murder wife and child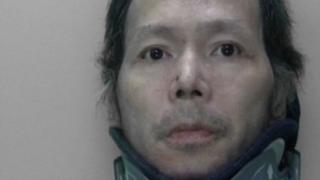 The owner of a nail bar has been found guilty of attempting to murder his wife and baby in a fire at the shop.
Duc Bac Vuong, 52, known as Sammi, was convicted of trying to murder his wife Tram and their five-month-old son George in Hailsham in East Sussex.
Sussex Police said it was thought Vuong started the fire at Hollywood Nails on 4 March with acetone liquid.
All three suffered serious burns in the blaze, which Vuong claimed started accidentally.
Police said he set fire to the acetone, blocking all the access points from the nail bar and upstairs flat, where the family lived.
Vuong told Lewes Crown Court he tried to douse the blaze after being woken up by his wife screaming "there's a fire".
However, a fire officer's report concluded the fire was started deliberately, both downstairs and upstairs, while CCTV also showed Vuong appearing to prevent his wife and baby escaping through the front door.
A witness described 21-year-old Mrs Vuong, who is known as Naomi, screaming in agonising pain and terror of her husband.
Vuong, who suffered 47% burns to his legs, chest and hands and was given only a 50% chance of surviving was in hospital for four months.
George was treated at a specialist burns unit at the Bristol Royal Infirmary and his mother was treated at the Royal Sussex County Hospital in Brighton.
Both underwent months of treatment.
Det Sgt Dave Tye said police believed Naomi had been subjected to domestic abuse at the hands of Vuong.
"The injuries they have all suffered are life-long and will require on-going treatment," he said.
"They are all lucky to be alive."
Vuong was remanded in custody for psychiatric reports and will be sentenced on 29 February.