Flood plain development concerns in Lancing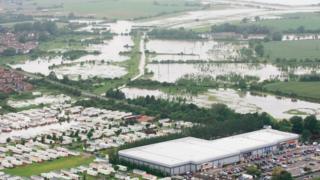 Concerns have been raised over plans for new homes on flood plain with fears any development may increase the flooding risk at nearby homes.
A possible development on New Marsh Farm, in Lancing, has been included in the Adur District Plan.
The council said the inclusion was to ensure it "could manage" any future development application.
Environmental groups said the plan was "crazy" and drainage in the area would be affected by any development.
Bill Freeman, chairman of Adur Floodwatch, said flooding occurs predominantly through ground water flows off the South Downs.
'Illogical'
"Effectively the development sits in a floodplain in an area called Lancing Brooks and that's a convoluted network of ditches that sustains draining for surface and groundwater for the whole of Lancing," he said.
"To build in that area... is just crazy, it's illogical."
The council said no planning application had been submitted, but it was understood the land owners were looking to develop the site.
Councillor Pat Beresford said putting the area on the local plan makes it "less likely" to be developed.
"If we don't have the checks and balances that we're putting into the local plan, we will stand there naked without any means of resisting the planning application," he said.