Listed level crossing barrier to be removed in Plumpton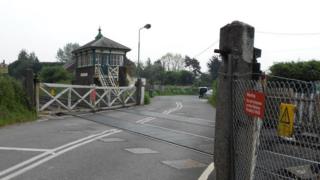 An "unsafe" Victorian railway crossing barrier will be permanently removed despite initial opposition from local councillors.
On Wednesday evening, Lewes District Council gave Network Rail permission to permanently remove the Grade-2 list railway gates in Plumpton.
The barrier will be replaced by a more modern one in February.
The village was effectively cut in two after Network Rail closed the crossing in October.
The council had initially refused planning permission, saying it believed that replacing the listed barrier would cause "substantial harm to the significance of the signal box".
More than 600 people signed a petition to get the crossing reopened as they are faced with a six-or seven-mile detour.
Network Rail had planned for the new crossing to open in October.