Brighton's Preston Park Velodrome 'to reopen in the spring'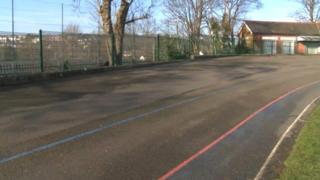 Brighton's outdoor velodrome which was closed to competitive racing over safety concerns will fully reopen by the spring, the city council says.
British Cycling stopped racing at the Preston Park track a year ago due to safety concerns but it remained open for leisure use.
The work to the track is mainly being funded by a grant from British Cycling.
The velodrome was dug out by hand by the British Army in 1877.
The track was closed to competitive racing by British Cycling in January 2015 because of the condition of the perimeter fence. However, cyclists were still able to use it for leisure use.
The campaign to save the track was supported by former Tour de France rider Sean Yates who said it would be "a great shame" if Preston Park Velodrome was lost.
John Mills from British Cycling Coaching, said: "Preston Park provides an excellent, traffic-free cycling facility, which is of great value to the people of Brighton and the wider South East region.
"We are delighted to have agreed a partnership funding package for the work which will see this track return to full operation in the spring."