West Sussex council tax rise 'first in six years'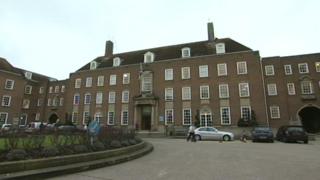 West Sussex County Council is expected to raise its council tax by nearly 4% - the maximum allowed by the government.
The authority said it had no choice but to increase council tax for the first time in six years because it was facing a £44.5m black hole in its funding.
The 3.95% increase will mean an extra £45.90 on the annual bill of an average band D property.
"This will be an extremely challenging year for us," said council leader Louise Goldsmith.
"Our government grant has been cut by over 20% - this is much worse than the national average and far more than we had expected."
'Modest rise'
The council tax increase includes the 2% extra announced by Chancellor George Osborne in his Autumn Statement to help councils pay for social care.
Dan Sartin, spokesman for public services union Unison. supported the increase.
"It's important that we have good, well-funded public services run by well-paid public sector workers," he said,
"That's what this modest rise to council tax will hope to achieve."
If agreed by the full council on 19 February, the increase will be added to bills from April.