Sandbags reinforce collapsed Arundel flood wall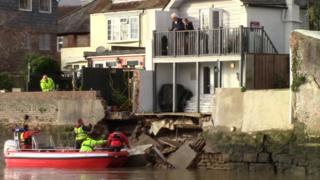 One-tonne sandbags are being lowered into place by crane to reinforce defences in West Sussex after a flood wall collapsed.
Three homes beside the River Arun at Arundel had to be evacuated after the privately-owned wall gave way in the early hours of Friday.
The collapse followed a period of high tides and elevated river levels following heavy rainfall.
The Environment Agency said it was confident it could contain any damage.
Fast-flowing estuary
West Sussex Fire and Rescue Service flood adviser Marvin Smith said a 26ft (8m) section of wall collapsed.
He said: "It is one of the fastest-flowing sections of tidal estuary in the UK and the movement of water through there is causing concern with the potential for more damage.
"The Downs are heavily saturated at the moment and there is more rain forecast but we are in a more fortunate position than people who have suffered terrible floods up north."
He said it was not yet known when the residents would be able to return home but work would be continuing all weekend.
Some roads were closed in the area to allow heavy machinery to reach the site.
The Environment Agency said officers were out in force checking and maintaining inland flood defences, clearing blockages in watercourses and monitoring water levels in rivers and groundwater.