Police 'concerned' about Uckfield mother and baby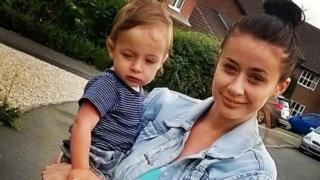 Messages have been posted on Facebook by police trying to trace a woman and her 18-month old son who went missing on New Year's Eve.
Ileana Tomoiaga, 29, and her son Daniel Sava left their home in Furnace Road, Uckfield, at 14:30 GMT on 31 December saying they were going to a local shop.
There is no evidence she visited the Tesco Express store, or any other shops in the area, Sussex Police said.
Police have left messages on her Facebook account but have had no reply.
Shannon Marchesani, from Sussex Police, said Ms Tomoiaga appeared to have left home of her own accord and there were "still no suspicious circumstances".
But she said they were "growing concerned about Ileana and Daniel".
"She did not leave with anything to prepare either of them for even a short stay away, and nothing has been heard since."
Ms Tomoiaga is described as white, 5ft 5in tall, slim with long red straight hair and pale skin. She was wearing a black leather jacket, black trousers and brown boots.
Sussex Police have appealed for anyone with information about them to come forward.