Brighton seafront road shut to prevent collapse of A259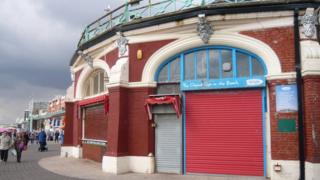 Part of the road along Brighton seafront has been shut so work can take place to prevent it from collapsing.
A 50m (164ft) section of the westbound lane will be closed until 2018 while the Victorian Shelter Hall underneath is rebuilt as part of a £10m project.
In 2014, part of the carriageway caved in when a pub roof beneath collapsed.
Brighton and Hove City Council said it would be "closely supervising" the work to make sure disruption was kept to a minimum.
The 19th Century former West Street Shelter Hall, part of the King's Road Arches, supports the upper promenade at the junction of the A259 and West Street.
Councillor Gill Mitchell said the work on the hall was the first stage of its investment into the seafront infrastructure to "protect these assets into the next century".