Maynards Green homes evacuated after gas main crash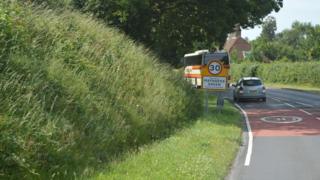 About 30 people had to be evacuated from their homes in the early hours after a car struck a gas main.
The occupants of 12 properties in the East Sussex village of Maynards Green were asked to leave their homes following the accident at 04:30 GMT.
They were taken to a school in Horam but were able to return home shortly after 08:00 GMT once the main had been made safe by engineers.
The female driver of the car suffered minor cuts and bruises.
During the incident, other householders in the village, along with those in nearby Heathfield, were advised to stay indoors and keep their windows shut.
Gas engineers are still at the scene working on more permanent repairs.
Sussex Police said there were no other injuries or damage.