Shoreham crash: Pilot Andy Hill interviewed by police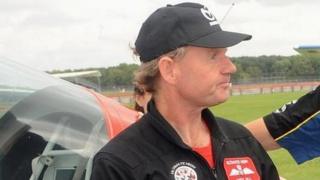 The pilot of the Hawker Hunter jet which crashed onto the A27 in Sussex killing 11 people, has been interviewed by police for the first time.
Officers spoke to 51-year-old Andy Hill at a police station in Hertfordshire.
Police, who did not name Mr Hill, said a man voluntarily attended an appointment and was "interviewed under caution but not arrested".
Mr Hill was performing aerobatics at the annual Shoreham show when the jet crashed and broke up.
An initial report after the incident found the jet showed "no abnormal indications" during its flight.
The Air Accidents Investigation Branch (AAIB) report said cockpit footage showed the plane "responding to the pilot's control inputs".
The jet split into four parts and Mr Hill was thrown clear. It is not known whether Mr Hill initiated his ejection.
After the crash, the pilot's family issued a statement which said they were devastated and deeply saddened by the loss of life and sent their prayers and heartfelt condolences to the families of all those affected.
---
The victims:
Matt Jones, a 24-year-old personal trainer
Matthew Grimstone, 23, a Worthing United footballer who worked as a groundsman at Brighton & Hove Albion
Jacob Schilt, also 23 and also a Worthing United player, was travelling to a match with Mr Grimstone
Maurice Abrahams, 76, from Brighton, was a chauffeur on his way to pick up a bride on her wedding day
Friends Richard Smith, 26, and Dylan Archer, 42, who were going for a bike ride on the South Downs
Mark Reeves, 53, had ridden his motorcycle to the perimeter of Shoreham Airport to take photos of the planes
Tony Brightwell, 53, from Hove was an aircraft enthusiast and had learnt to fly at Shoreham airfield
Mark Trussler, 54, is thought to have been riding his motorcycle on the A27
Daniele Polito was travelling in the same car as Mr Jones
Graham Mallinson, 72, from Newick, was a keen photographer and retired engineer