Brighton protest over special educational needs cuts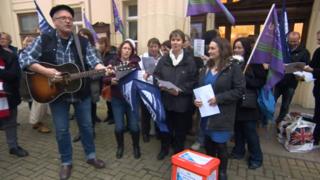 Families have held a protest against planned cuts to Brighton and Hove's services for children with special educational needs (SEN).
Campaigners say a first-class service is being dismantled and the reorganised system will not work.
A petition by over 10,000 people was debated by the city council during the protest at Brighton Town Hall.
The council, which wants to save £13.5m, has said it needs to find more efficient ways of working.
Under the plans, six special schools are to be merged into three over four years.
There will also changes to support in mainstream schools for children with special needs.
Petition organiser, teacher Sadie Gillett, said the changes would cut 21 full-time equivalent teaching posts down to 14.
"Our concern is that with a much-reduced capacity in teacher level posts we just won't be able to see as many children," she said.
"We are going to be stretched too thin to have a service as effective as it has been."
The city council said the changes will not reduce the number of SEN places but will save money by consolidating and integrating provision.
It will make a final decision in January.