East Sussex libraries could cut hours to save running costs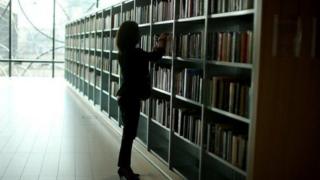 Libraries in East Sussex may have to cut opening hours from next autumn as the county council tries to save up to £90m over the next three years.
Councillors have voted to put the plans out to consultation, which would see libraries opening at 10:00 and closing at 17:30, and 18:00 on Thursdays.
Libraries which open on a Saturday would continue to do so.
Cutting the hours by about 25% would cut running costs by £500,000 a year.
The council has found that over the past five years there has been an 11% drop in visitors to libraries but an 87% increase in the use of e-libraries, which offer digital and audio books.
At a cabinet meeting earlier, Tory leader Keith Glazier said the proposal was about "confining the opening times to something that's realistic and affordable".
Labour councillor Godfrey Daniel said he was pleased libraries would not have to close, adding that he hoped a future Labour government would invest "in these vital public services".
The proposal will go out to public consultation between January and April, with a decision expected next summer.