Sussex Police consult on new rape posters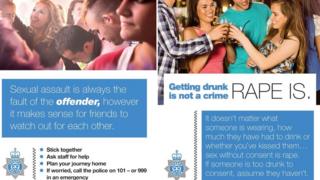 New posters raising awareness of rape have been produced by Sussex Police after the force had to drop a campaign earlier this year.
Three draft posters have been produced tackling issues of consent, safety, and reporting suspicious behaviour.
In April, a rape prevention poster campaign was brought to an end after it was criticised for "victim-blaming".
The new posters have been praised by campaigners for putting the issue of consent "front and centre".
Sussex Police consulted the public on the draft posters for two days this week and will consult again with their partners, which include local authorities and voluntary agencies, before the final versions are decided.
Det Supt Paul Furnell said the force invited public views on the public because it was "always an important and sensitive issue".
Fabia Bates, director of of Brighton-based Survivors Network, said: " "It's good to see Sussex Police putting the issue of consent front and centre, while also encouraging debate about how we can all work to prevent sexual violence."
The final versions of the posters are expected to be released on social media and in pubs and clubs in Brighton and Hove early next year.