'Back at square one' over Gatwick runway decision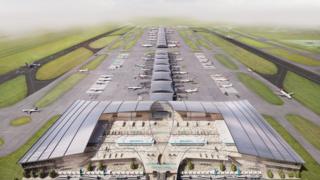 Campaigners against expansion at Gatwick Airport say they are "in limbo" and "back at square one" after a decision on a new runway was delayed.
In July the Airports Commission recommended a third runway at Heathrow as its chosen solution.
Following the publication of the report the government said it would make a decision by the end of the year.
On Monday BBC business editor Kamal Ahmed said the decision could be delayed "for at least six months".
Sally Pavey, spokeswoman for Gatwick Area Conservation Campaign and also chairwoman of Cagney (Communities against Gatwick Noise and Emissions) said; "It's very frustrating.
"We are seemingly back to square one and we have got the two communities in limbo yet again."
She said: "A lot of people want to get on with their lives and this threat has been hanging over us and we thought it was almost gone.
"People want to move house and buyers are simply not wanting to commit because it's almost as if we've gone back to square one."
Ms Pavey said the fight against an additional runway at Gatwick would continue.
Carolyn Fairbairn, the director-general of the CBI, said: "Our economy is going to run out of airport capacity in the South by 2025.
"We really need a decision on airport capacity, it's urgent and it's not optional," she told the BBC's Today programme.