Sussex Police inspector accused of phoning prostitutes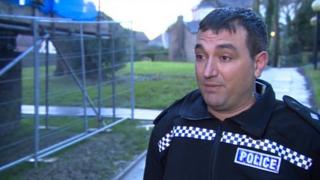 A Sussex Police inspector has been accused of phoning prostitutes while on duty and discussing details of on-going cases on social media.
Insp Lee Lyons is accused of 21 counts of breaching standards of professional behaviour dating back to 2011.
The allegations include a claim he made 23 calls to 11 prostitutes in one day.
The officer, based in Hastings, is due to appear at a public hearing on Monday following new regulations introduced in March.
It is alleged Mr Lyons messaged two prostitutes about their availability from his personal phone while on duty in May 2014 .
The following month he is said to have made calls to another two women and on 23 July 2014 it is claimed he made 23 calls to 11 prostitutes.
On 11 September 2014 it is alleged Mr Lyons posted a message on Facebook about the shooting of a seven-year-old girl by her father.
Mary Shipstone was gunned down by Yasser Alromisse in Northiam earlier that day as she returned from school. His body was found in a car parked on a driveway next to Mary's home.
Mr Lyons is accused of posting on Facebook: "Can't go into massive detail, and not for wider posting on FB [Facebook]. Estranged father shot daughter and then shot himself. He died at scene... she will likely die soon."
Mary died in hospital the following day.
'Baddie vs baddie stabbing'
Mr Lyons is alleged to have discussed the suspension of a number of officers at Hastings in March 2014 with a BBC producer.
He is also said to have discussed a "baddie vs baddie stabbing" in September 2014.
Mr Lyons is said to have maintained a relationship with a local reporter since May 2012 and shared information about a number of cases.
Sussex Police and the Police Federation were unavailable for comment.
The hearing will be held at 14:30 GMT on Monday at the Sussex Police headquarters.