Children work with Bexhill to Hastings road artefacts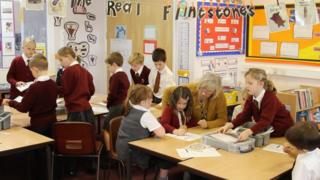 Artefacts found during archaeological digs on the site of a new road in East Sussex have inspired a history project in the county's primary schools.
Items from the Palaeolithic, Mesolithic, Neolithic, Bronze and Iron Ages were found on the nearly completed Bexhill to Hastings link road.
Now a selection has been put together in five boxes, each representing one of the prehistoric periods.
They will be available to schools, allowing children to handle the items.
Each box contains 25 original artefacts and replicas made by craftsmen as well as explanatory cards and pictures which tell their story.
The project was based on the British Museum's History of the World in 100 Objects.
"We very much hope that the boxes will be a legacy - that we can add to them and refresh them," said county archaeologist Casper Johnson.
"The link road presented a unique opportunity.
"We found evidence in the Hastings and Bexhill area of people living there from the end of the Ice Age right through to the present day - so for over 10,000 years."