Syrian refugees arrive in Brighton under government scheme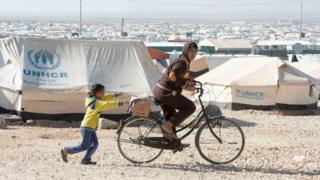 Three Syrian families have arrived in Brighton to be housed as part of the government's refugee scheme.
The families are the first to be settled in Sussex since the government expanded its vulnerable persons relocation (VPR) scheme.
Brighton and Hove City Council said there will be no impact on the current housing list as the homes have all been offered specially for the refugees.
Other councils in East and West Sussex said they will house refugees in 2016.
The latest refugees arriving as part of the vulnerable persons relocation (VPR) scheme will join others already taken in by the UK and given legal protection and access to housing, employment, education and, where they need it, expert medical care.
'Extremely proud'
Councillor Emma Daniel, chairwoman of the neighbourhood, communities and equalities committee, said the refugees will be met by a charity.
"The government's given them an emergency payment so that they can get some food straight away and any toiletries and things that they require immediately," she said.
"No-one wants to be a refugee, people want to stay home. People who come here are coming here because they see no other option for themselves.
"I feel extremely proud about Brighton and Hove - I think we are a small city with a big heart and despite our housing crisis people within the city have come forward with properties that normally wouldn't be available."
On 17 November, the first refugees of the expanded VPR scheme arrived in Glasgow to be resettled across Scotland.