Brighton 'Boris Bikes' scheme gets £1.16m funding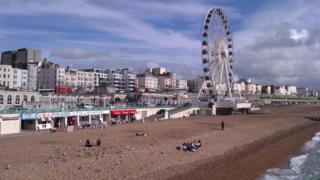 A cycle hire scheme for Brighton has been given approval for £1.16m funding from the Coast to Capital (C2C) local enterprise partnership.
Brighton and Hove City Council, which backed the scheme on Tuesday, wants to set up 50 hubs with 430 bikes for hire.
The scheme will be similar to London's "Boris Bikes", where bikes can be hired or returned to any docking station.
It is hoped an operator can be found to set up the scheme by May 2017.
C2C, which was set up by the government to create economic growth in Brighton, Croydon, Gatwick, Lewes and West Sussex, will part-fund the scheme.
"This is the final piece of the jigsaw and we can now move ahead with finding an operator for the scheme," said Councillor Gill Mitchell.
The extra £290,000 needed for the £1.45m infrastructure will come from the city council and developers.
Following consultation with residents and businesses, the cycle hubs will be sited along the seafront, in the city centre and along the A27 corridor to the Falmer university campuses.