Cuts as Brighton and Hove City Council seeks to save £68m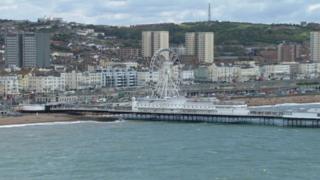 An estimated 540 full-time posts are set to be cut at Brighton and Hove City Council as it seeks to save £68m.
Leaders have set out plans for the next four years, which would also see a rise in council tax of 1.99%.
In addition, cuts to services include the closure of public toilets, moving the Royal Pavilion into trust status, and reducing park ranger services.
Residents will be asked for their views on how savings can be made when an online consultation opens next month.
The proposals for 2016-20 are set out in a report to be considered by the Policy and Resources Committee next Thursday.
Other proposed cuts include the closure of Tower House, a day centre for adults with a physical disability, saving £230,000, and a review of the learning disabilities service, with the intention of saving £2.5m.
The £68m saving assumes a 1.99% rise in council tax every year.
Council leader Warren Morgan said the combination of "relentless central government cuts, increasing costs and rising demand for services" had left local government facing "challenging times".
Unions have described the proposed cuts to services as devastating.
GMB branch secretary Mark Turner said he was concerned some of the proposals were not actually achievable in real terms.
"They are going to directly affect the vulnerable, the elderly and young people," he said.
Richard Woolven, Unison branch officer, said "an emergency" was facing council services as a result of the "unprecedented cuts".
"Whilst these result from the discredited anti-austerity policies of the national Conservative government, it is the 54 city councillors that have the power to make decisions that will affect every resident and member of staff," he said.