Sussex Police hunt for dog taken on golf course joyride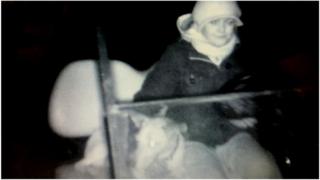 A woman who took her dog for a late-night joyride around a golf course in a buggy is being hunted by police.
Officers have released CCTV of the woman driving her dog around Willingdon Golf Course in Eastbourne, Sussex.
One or more buggies were driven around the course, causing significant damage, police said, while one vehicle sustained up to £1,000-worth of damage.
PC James Gillies said it was "rather strange", not least because the buggies were later returned.
Not only was the dog taken for a spin, he said, but the buggies were driven back to their container about 90 minutes later - and plugged back in to charge up.
"It appears that a key to the container may have been stolen unnoticed from the club prior to Sunday night, but the locks have now been changed," he said.
PC Gillies said the woman was accompanied by another person, thought to be a man, at about 22:35 GMT.
Anyone who recognised the woman or her dog is urged to contact the force.