Escort agency boss Janine Adeleke jailed for benefit fraud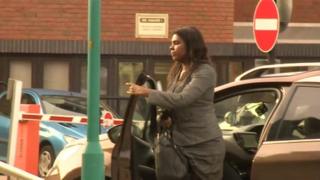 A woman who fraudulently claimed £118,000 in benefits while running an escort agency has been jailed for three years.
Janine Adeleke, 43, ran the business from her home in Bexhill-On-Sea, in East Sussex.
During her trial at Canterbury Crown Court, the jury heard Adeleke lived in a house with eight bedrooms and sent her five children to private school.
HM Revenue and Customs said she also laundered £157,000 of "illicit cash".
BBC South East Today's Juliette Parkin said Adeleke wept as she was told by the judge that her fraud went on for "far too long" for her to avoid a jail sentence.
Richard Las, from HMRC, said Adeleke also avoided paying £230,772 in income tax and national insurance..
He said: "This is someone who has led quite a lavish lifestyle - her five children have all attended private schools, she lives in an eight-bedroom house.
"And she has spent a lot of this money on her lifestyle in terms of cars and holidays."
Mr Las said she "displayed greed and dishonesty on a number of levels".