Widow criticises ambulance for 'failing' heart attack husband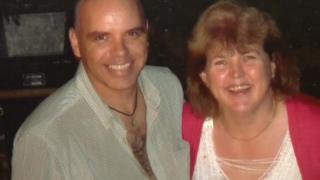 A widow has criticised paramedics over "failings" in their treatment of her husband in the last hours of his life.
Mark Rist, 48, of Netherfield, East Sussex died in hospital after suffering a heart attack, last March.
His wife Helen claims South East Coast Ambulance (Secamb) made errors which left him without a "fighting chance".
Secamb said it was sorry parts of its service "did not meet the highest possible standard" but disputed there were unnecessary delays in the case.
"It took almost an hour and 35 minutes from start to finish to get my husband to hospital. That's too long," said Mrs Rist.
'Playing Russian roulette'
She said it took 15 minutes for a paramedic to get to their house after she dialled 999 and another 23 minutes for an ambulance to arrive.
Mrs Rist claims the first responder was unable to administer fluids to her husband and the ambulance crew appeared to be unsure of which hospital to go to, causing further delays.
She also alleges staff did not know their way round Eastbourne District General Hospital once they arrived with Mr Rist.
"He should have had a fighting chance at least but he didn't and I do believe that's all down to the timing," Mrs Rist continued.
"They are just playing Russian roulette, as far as I'm concerned, with people's lives and I don't want another family to suffer."
'Take concerns seriously'
In a letter to Mrs Rist, Secamb said it accepted crews arrived later than the eight minutes it intended and a bag labelled incorrectly meant fluid was not initially available.
But it did not accept there was an unnecessary delay in taking Mr Rist to hospital.
"We always take any concerns raised seriously and we are sorry that parts of the service provided on this occasion did not meet the highest possible standard," a spokesman said.
"We have responded to Mrs Rist in writing and have also recently met with her to further discuss her concerns. We are in the process of following up on these with individual members of staff before responding directly to her."