Lewes bonfire celebrations hit by wet weather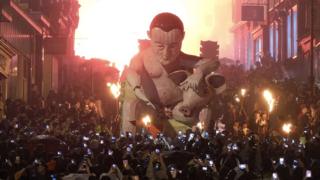 Visitor numbers to one of Britain's biggest Bonfire Night events fell with police blaming the wet weather.
Sussex Police said there were between 20,000 to 25,000 spectators in Lewes on Thursday, compared to 40,000 in 2014.
The annual event saw an effigy of a semi-naked David Cameron with a pig's head burned. Other effigies included Jeremy Clarkson and Sepp Blatter.
Paramedics treated 82 people for injuries, with six needing hospital treatment. Five people were arrested.
More than 30 different processions made their way through the East Sussex town.
A 50ft (15m) Guy Fawkes effigy was also torched in an bid to set a record for the tallest Guy.
Last year, Lewes, torched figures including Russian president Vladimir Putin.
There are seven different bonfire societies in Lewes, with six of them taking part in the 5 November celebrations.
Supt Laurence Taylor said: "The policing of this event involves months of preparation, planning and consultation with the bonfire societies, our fellow emergency services and partners, with the main aim being to provide a safe environment for both participants and spectators alike.
"I am especially grateful to the stewards who worked tremendously hard along the processional routes to ensure that onlookers had a safe and enjoyable evening."
The five arrests were for drug possession, criminal damage, assault and being drunk and disorderly.
Police added that the fire brigade had "no incidents of note" over the course of the evening.