Chichester District Council replaces fleet with electric cars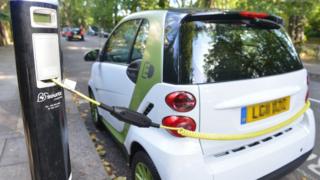 A fleet of seven petrol vehicles used by Chichester District Council will be replaced by electric versions when their leases run out.
Councillors voted for the change on Tuesday claiming it will save nearly £1,000 a year per vehicle.
They also said using an electric van will save three tonnes of CO2 a year.
Roger Barrow, from Chichester District Council, said he was convinced it was the right decision.
"We won't be able to replace all our fleet because there are restrictions in the mileage we can do, but we've identified on our fleet seven vehicles which we are convinced would be viable to change to electric vehicles," he said.
"They are used by our contract services department going around where there's work to be done in the area.
"And they are used by our parking services department to visit the various car parks."