Shoreham air disaster: Anger at pilot interview delay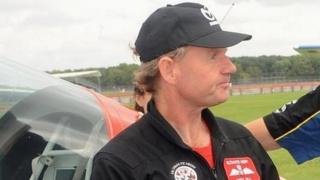 The families of 11 men who died in the Shoreham air disaster have asked why the pilot is "walking around" without having been interviewed by police.
Andy Hill was thrown clear of the aircraft during the disaster on 22 August when the vintage jet he was flying crashed on to the A27.
Giovanna Chirico, whose fiance died, said families needed answers about how and why the crash happened.
Sussex Police said the pilot's fitness for interview had not been confirmed.
Mr Hill, 51, from Sandon, near Buntingford in Hertfordshire, was in a critical condition after the crash but was discharged from hospital last month.
'Physical injuries nearly healed'
Ms Chirico, who was engaged to Mark Trussler, said families were angry and needed answers and now faced a "frustrating waiting game".
"We all lost our loved ones," she said. "And he's come out of a plane crash and is walking around and is still with his family."
Stevie Johnson, who lost her best friend Matt Jones, said: "When we've got everything in front of us and all of the information's there, and the pilot's been interviewed, and we all know exactly what's happening, then it will be easier for us to all come together and grieve."
A friend of Mr Hill, Neil McCarthy, said he had not spoken to Mr Hill yet and not many people had.
Decisions about when to interview Mr Hill had to be made by police and the Air Accidents Investigation Branch, he added.
"You can't leave it too long - but if he's not in the right frame of mind or the right condition then there's no point doing that really," he said.
Mr McCarthy said he understood Mr Hill's physical injuries were on their way towards "getting fully healed".
He said he believed the reason for Mr Hill not yet being interviewed would be to do with his memory or state of mind.
Det Ch Insp Paul Rymarz said: "The interview of the pilot forms an integral part of the police investigation, but at this time his fitness for interview has not been confirmed."
He said the victims' families had been given the reasons why the pilot had not yet been interviewed.
---
The victims:
Matt Jones, 24 - a personal trainer
Daniele Polito, 23 - he was travelling in the same car as Mr Jones
Matthew Grimstone, 23 - a Worthing United footballer who worked as a groundskeeper at Brighton & Hove Albion
Jacob Schilt, 23 - a Worthing United player travelling to a match with Mr Grimstone
Maurice Abrahams, 76 - a chauffeur on his way to pick up a bride on her wedding day
Richard Smith, 26, and Dylan Archer, 42 - friends who were going for a bike ride on the South Downs
Mark Reeves, 53 - he had taken his motorcycle to the perimeter of Shoreham Airport to take photos of the planes
Tony Brightwell, 53 - an aircraft enthusiast who had learned to fly at Shoreham airfield
Mark Trussler, 54 - thought to have been riding his motorcycle on the A27
Graham Mallinson, 72 - a keen photographer and retired engineer
---