Brighton Volk's Railway restoration helped by £1.65m lottery grant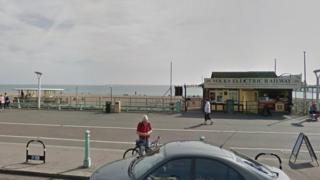 A 132-year-old seaside railway is to be restored and upgraded with the help of a £1.65m Heritage Lottery Fund grant.
Volk's Railway on Brighton seafront, which claims to be the world's oldest electric railway, attracts about 200,000 visitors a year.
A visitor centre is to be built to tell the story of its founder, inventor and engineer Magnus Volk.
Three of the original carriages will be restored to increase capacity on the mile-long railway.
There will also be a conservation workshop which will provide training for volunteers.
'Much loved'
The railway, which was closed at the outbreak of WW2 in 1939, has been operated by the local authority since it reopened in 1948.
It has a team of Brighton and Hove City Council employees who work with volunteers.
"Volk's Railway is a much loved and integral part of our city's history," said Councillor Alan Robins.
"The funding is recognition from the Heritage Lottery Fund of the importance of this fascinating Victorian attraction which is still so very popular today."
Hove firm ABIR Architects, which worked on the restoration of Brighton bandstand in 2008 and 2009 will be in charge of the railway project.
Work is expected to start in September 2016, with the railway reopening in Spring 2017.