Shoreham plane crash: Police officers investigated over message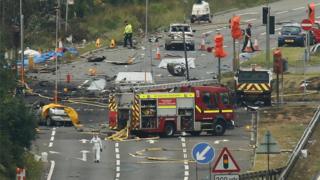 Two Sussex Police officers are being investigated for gross misconduct over a private social media message sent in the wake of the Shoreham Airshow crash.
The investigation by the force's professional standards department relates to two Brighton-based officers, a Sussex Police spokeswoman said.
Supt Lisa Bell said the investigation was linked to an online message sent to a third person, who was a colleague.
The officers are "quite new in service" and have not been suspended.
The families of the 11 people who died when a Hawker Hunter aeroplane crashed into the A27 during the Shoreham Airshow are being informed, Sussex Police said.
In a statement, Deputy Chief Constable Olivia Pinkney said: "I want them to work to earn their pay while this is investigated.
"In the meantime they have been assigned duties away from public contact."
Their colleague "swiftly reported" the message, police said.
'Unnecessary distress'
Deputy Chief Constable Pinkney said: "I cannot emphasize how upset I am that we are investigating such an allegation.
"My colleagues have informed the victims' families and apologised to them for the unnecessary distress it will undoubtedly cause them."
She said the allegation "detracts from the professionalism of hundreds of colleagues who have worked so tirelessly on this operation".
Following the crash, which happened on 22 August, Ch Supt Tony Blaker said he was aware of images and videos from the scene that had been placed online.
He urged people to "consider the feelings" of those who had lost loved ones.
---
The victims:
Matt Jones, a 24-year-old personal trainer
Matthew Grimstone, 23, a Worthing United footballer who worked as a groundsman at Brighton & Hove Albion
Jacob Schilt, also 23 and also a Worthing United player, was travelling to a match with Mr Grimstone
Maurice Abrahams, 76, from Brighton, was a chauffeur on his way to pick up a bride on her wedding day
Friends Richard Smith, 26, and Dylan Archer, 42, who were going for a bike ride on the South Downs
Mark Reeves, 53, had ridden his motorcycle to the perimeter of Shoreham Airport to take photos of the planes
Tony Brightwell, 53, from Hove was an aircraft enthusiast and had learnt to fly at Shoreham airfield
Mark Trussler, 54, is thought to have been riding his motorcycle on the A27
Daniele Polito was travelling in the same car as Mr Jones
Graham Mallinson, 72, from Newick, was a keen photographer and retired engineer
---