Rubbish Minions: 'Creative vandalism' behind Peacehaven 'Binions'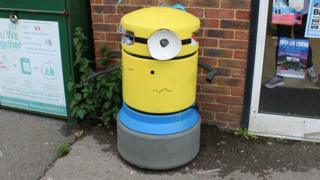 Rubbish bins in an East Sussex town have been given Minion makeovers to create "Binions" in what has been dubbed a feat of "creative vandalism".
The 10 bins in Peacehaven were customised to resemble characters from the animated film, Minions.
The "Binions" have "put joy into the community", according to Wayne Botting, mayor of neighbouring Telscombe.
Peacehaven Town Council said it did now know who had transformed the bins but they were "a source of amusement".
'Genius idea'
The customised refuse receptacles have proved popular with local people and caused a stir on social media.
"They're fantastic. Someone has been very creative with the bins and put a bit of joy into the community," Mr Botting added.
"Let's call it creative vandalism - a bit of a Banksy moment.
"Dave is my favourite," he said.
The bins are managed by Lewes District Council who said they had brought smiles and comments from passers by.
A spokeswoman for the council said: "Anything that encourages people to use the litter bins provided is a good thing."
Stephen Ruston tweeted: "Genius idea to paint all bins in Peacehaven to look like Minions. Whoever thought it up & did it #Binions."