Worthing Birdman: Ex-world hang-gliding champion takes top prize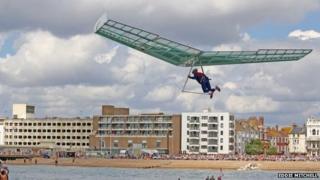 A former world hang-gliding champion has claimed the top prize for launching himself from the end of Worthing Pier.
Tony Hughes took the title of Worthing International Birdman after flying just over 106m (347ft) at the two-day event in West Sussex.
The annual contest involves people throwing themselves off the town's pier in machines and various costumes.
Mr Hughes was raising money for the Wiltshire Air Ambulance and won £10,000 for his leap into the English Channel.