Brighton Pride 'bomb' linked to marina suspicious device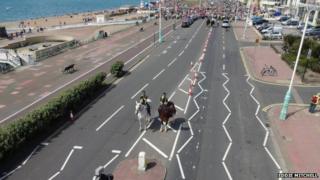 A suspicious package that delayed the start of Brighton Pride has been linked to another that was found in the city.
The parade marking the 25th Pride event in Brighton was rerouted and delayed for 90 minutes on Saturday after the package was found by the bandstand.
The seafront area was cordoned off and bomb disposal officers carried out a controlled explosion.
Sussex Police are linking it to a package found at Brighton Marina on 1 July.
Pinhole cameras
Staff found it on the sixth floor of the marina's multi-storey car park. The car park was closed and expert explosives officers were called but it was found not to be suspicious.
Police said both items looked similar and were being sent for forensic examination.
They said the packages may have been used as pinhole cameras to take photographs.
Chief Supt Nev Kemp said there was nothing to suggest the package found on Saturday was intended to target any particular community.
The Pride parade was to have followed a new "high-profile" route including King's Road, the peace statue and the seafront but was diverted along Western Road.
"We are keeping an open mind as to why this package was placed close to the start of the Pride parade," said Chief Supt Kemp.
"The item did look like a suspicious device and we were concerned enough to call in the bomb disposal unit, who after making a further assessment, also agreed it was highly suspicious and carried out a controlled explosion.
There was no risk to the public.