Lewes honours World War One soldier Sidney Woodroffe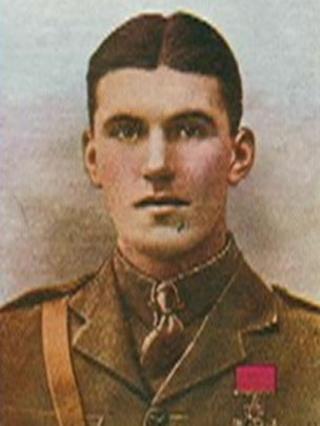 A soldier who was awarded the Victoria Cross for his bravery during World War One has been honoured in the East Sussex town where he lived.
Sidney Woodroffe died in action at the age of 19 in the Belgian village of Hooge, near Ypres, in 1915.
Woodroffe, a second lieutenant in the 8th Battalion, The Rifle Brigade, had been leading his men in a counter-attack in the face of German fire.
A memorial paving stone and plaque have been unveiled in Lewes.
The town's mayor, Councillor Susan Murray, said Woodroffe was a true hero who led his men in the face of a terrible onslaught and the memorial would ensure his name lived on for generations to come.
Brothers also killed
Dr Chris Kempshall, East Sussex County Council project officer for World War One commemorations, said it was important to remember the bravery of individual soldiers.
He said: "I think that in the past 100 years we've lost a little bit of individual sacrifice and individual soldiers from the First World War.
"We do remember them as a whole, which is important, but individual soldiers displayed really incredible levels of bravery and heroism at times in France, Belgium and elsewhere around the world."
Woodroffe was born in Lewes in 1895, educated at Marlborough College in Wiltshire, and was due to study classics at Cambridge before war interrupted his plans.
After signing up and receiving his commission in December 1914, he was deployed to France, where he was made platoon commander.
His body was never recovered, but his name is inscribed on the Menin Gate, near Ypres. Two of his brothers also served and lost their lives in the war.