Chailey solar farm application rejected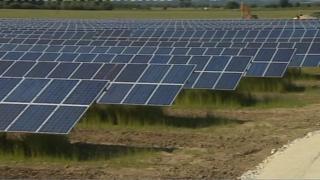 Controversial plans to build a huge solar farm in an East Sussex village have been rejected by councillors.
Lewes District Council officers had recommended approval of the scheme to install 20,000 solar panels on 24 acres of farmland in Chailey.
The panels at Tomkins Farm would have generated enough electricity to supply 1,400 local homes and businesses.
Opponents said it would have blighted a unique ancient landscape and used up valuable agricultural land.
'Secluded site'
Campaigner Sally Varlow said: "We feel obviously that in the end they came to the right decision that however much we do need renewable energy it doesn't have to actually be solar energy.
"There are other perhaps more efficient forms and it doesn't have to be produced by putting solar panels on green fields and agricultural land."
Hadstone Energy said the site had been chosen because it was "relatively secluded".
It also said the land grade was "low and not viable for arable farming".
Landowner Philip O'Conor said his sheep would have still been able to graze the land under the solar panels, which would have had "a minimal effect on the surrounding area visually".