Biscuit tin collection on show at Brighton museum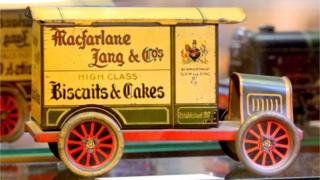 A collection of antique and vintage biscuit tins has gone on show at a Brighton museum.
The tins, some more than 100-years-old, have been loaned to the Brighton Toy and Model Museum.
The collection gathered by Sarah Leather is "absolutely unique", Chris Littledale, the museums's founder, said.
The tins were manufactured for the biscuit companies and designed to be re-used as toys.
Mr Littledale said: "They are made of printed tin plate. They were made in thousands but were quite delicate. Give them to a six-year-old and you'd be lucky if they lasted a week.
"This collection is unique. The V&A [Victoria and Albert Museum] has a biscuit tin collection, but there are lots in this one that they don't have."
Sarah Leather started her collection in the mid 1990s and this is the first time the collection has been on public display since her death, the museum said.
The collection includes locomotives, lorries, houses, toadstools and an Alice in Wonderland tea caddy.
The 1920s red double-decker London omnibus "has tremendous charm. It's worth way over £1,000," Mr Littledale said.
The banner along the side of the bus includes the names of various biscuits manufactured by Huntley and Palmer.
"These tins capture the joy children have in both biscuits and toys reflecting their interests including trains, forts, airplanes, fairies, popular cartoons and wildlife," Dan Cash from the Brighton Toy and Model Museum said.