Sussex 20mph speed limits not enforced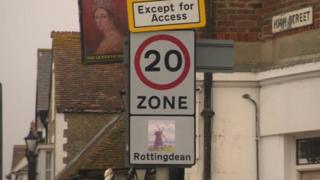 Speed limits of 20mph in Brighton and five East Sussex towns are not being enforced, Sussex Police has admitted.
Since the 20mph zone began in Brighton in 2013 there has been one prosecution of a man breaking the limit, who was also charged with other offences.
A Freedom of Information request by South East Today discovered no other prosecutions had taken place.
A police spokesman said some drivers had been stopped and given advice to raise awareness.
But he said it was not possible to say how many were stopped because the information was not recorded centrally.
'Self enforcing'
The 20mph (32kph) limit was introduced by the city council across most of Brighton and Hove in 2013.
East Sussex also has 20mph zones in Lewes, Kingston, Seaford, Hastings and Stone Cross.
Sussex Police said neither its own roads policing unit nor Sussex Safer Roads Partnership had carried out any enforcement of the 20mph zones.
It said the speed limits were designed to be self enforcing.
"Average speeds across the area involved are already below 24mph and we expect drivers to play their part in improving safety by complying with the limits," said the spokesman.
"Whilst Sussex Police are able to enforce any legally established speed limit, we do not routinely expect to enforce 20mph limits."
Brighton and Hove City Council said the 20mph limit was introduced into areas where surveys showed the majority of residents wanted it.
"Enforcement is a matter for the police," it said in a statement.