Minesh Parbat guilty over 'sex act' death crash in Crawley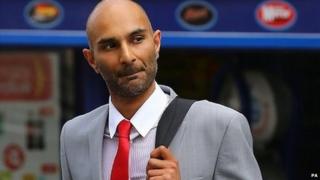 A man who denied taking part in a sex act with his girlfriend before she died in a crash has been found guilty of causing death by dangerous driving.
Minesh Parbat, 36, was driving his BMW at 60mph when he crashed in Crawley.
His girlfriend Lisa Watling, 28, was found wearing only her bra and t-shirt, with the rest of her clothes in the footwell. She died in hospital later.
Lewes Crown Court heard that Parbat was found with his trousers and underwear around his ankles.
The crash happened at on 9 March on the A2011.
Parbat, of Gregory Close, in Maidenbower, Crawley, had told the court he dropped his trousers as part of a dare with Ms Watling.
'Lose your liberty'
He said she sat on the dashboard as they drove then she moved in front of him and obscured his view.
He denied anything sexual had taken place as he drove his BMW Z3 and said he struggled to get Ms Watling off him before the crash.
Jurors heard Parbat veered into the central reservation, then over-steered before crashing into a fence.
After the crash he gave a positive blood test which showed 102 milligrams of alcohol per 100 millilitres of blood. The drink-drive limit is 80 milligrams.
Adjourning sentencing to 28 August for pre-sentence reports, Recorder Peter Griffiths QC said: "You have been, in my view, rightly convicted of this very serious offence.
"It is inevitable that you will lose your liberty. To prison you will be going. The question is what length."
Parbat was bailed to await sentencing.