Brighton bus crash driver 'told supervisor he felt unwell'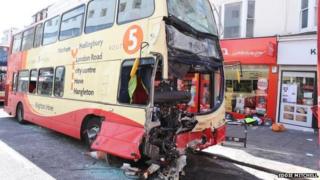 The driver of a bus that crashed in Brighton, injuring 19 people, told his supervisor hours before he felt unwell, his company has confirmed.
He remains in a serious but stable condition after the crash on Monday - 18 others were treated in hospital.
Brighton and Hove Buses said its investigation was primarily focussing on the driver's health at the time of the collision.
It added the driver had no previous history of the illness he experienced.
Mark Turner, from the GMB Union, said it was looking into claims the driver reported to management he was ill but was "instructed or advised that he needed to go out to work that day".
"If those facts are true, then it's a serious position the company is in," he added.
'Allegations of pressure'
However, Brighton and Hove Buses managing director, Martin Harris, said: "The allegations that he was pressured by the company to work after earlier feeling unwell are unfounded."
He said: "Our supervisor correctly advised him not to commence his duty and to advise whether he felt able to drive or not later.
"Our driver subsequently, and of his own volition, reported back to a second supervisor, advising that he then felt fine to drive and would commence work."
He then "appears to have become ill again" after driving for about 90 minutes, Mr Harris said.
The BBC has been unable to speak to the driver because of his serious condition, or to any family members.
Sussex Police is investigating the cause of the crash.
A total of 13 people were treated at the Royal Sussex County Hospital in Brighton and six in the Princess Royal in Haywards Heath, 20 miles away, following the collision.
A walk-in centre for the less seriously injured was set up near the city's main railway station.
Initially, the emergency services said two people had suffered life-threatening injuries, but Brighton and Sussex University Hospitals officials later confirmed it was one person.
Students Zoe Dellow and Ellie Vinehall, who went to help out, described seeing one driver trapped in his cab and a second man with a deep head wound.