Brighton drinkers warned of sea dangers after three deaths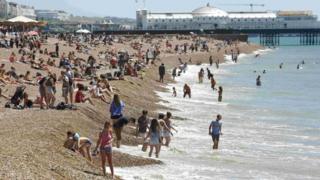 The dangers of the sea are being highlighted to young adult drinkers in Brighton after three deaths this year.
Night and daytime drinkers aged 18 to 25 are among three groups classed as high risk in the Brighton and Hove City Council campaign.
Steep shingle beaches and dangerous wave conditions can make it difficult to leave the water, the council says.
"This is a very problematic age range for us with the partying scene," said seafront officer Charlie Branson.
Three people have died this year after getting into difficulties in the sea.
In January, local men Freddie Reynolds, 24, and Dan Nichols, 23, died after they got into difficulty in gale force nine conditions near Palace Pier at 01:00 GMT.
Last month, Thabo Gwemende, 22, from Redhill in Surrey died after getting into difficulties in the sea east of Brighton Pier just after 07:00 BST.
"A paddle may be OK at low tide when the water is less than a foot deep for the first 20 metres (65ft), but at high tide the water can be three metres (9ft) deep just a couple of feet out and people don't realise this," said Mr Branson.
Resolve Security has been patrolling the beach between the two piers every weekend for eight weeks at night when the beach lifeguards are not on duty.
Lead patroller Louise Roberts Jones said 18 people were talked out of the sea last weekend alone.
"We have a lot of venues where people are leaving intoxicated and going on to the beach," she said.
"We have got a duty of care to make sure they are safe once they leave the venues."
The city council is releasing three films explaining the dangers of the beach to the three target groups.
The others deemed to be at high risk are toddlers to 10-year-olds who have no understanding of the dangers, and older children and teenagers.