Lorry driver hits toddler on Brighton pavement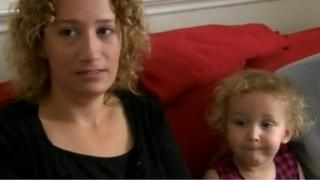 A lorry driver failed to stop after his vehicle went on to a pavement in the centre of Brighton and hit a toddler, breaking her leg.
Jodie Lee, mother of two-year-old Eloise, has appealed for the driver to come forward after the incident on the pavement in Middle Street on Friday.
Several people shouted at the lorry driver to stop but he drove away.
Police said the lorry had turned off the A259 Kings Road into Middle Street and mounted the kerb as it did so.
Ms Lee, of Eastbourne, said she and her daughter were on a day out in Brighton and had decided to visit the pier after lunch.
"Eloise is obsessed with stickers, so we were looking for her stickers because she'd dropped them.
"Next thing I know, I've seen the lorry mount the kerb and knock Eloise to the ground and I reacted quick enough to grab her so only her leg was injured.
"If I wasn't fast enough, anything really could have happened."
She said the lorry driver had his window down and he would have heard people shouting.
"I was terrified. I thought the worst had happened."
Ms Lee urged the driver to come forward and said: "Just do the right thing."
Eloise was treated at the Royal Sussex County Hospital.
PC Christina Lane, from Sussex Police roads policing unit, said several people saw what happened and shouted to the driver to stop.
She said witnesses were being sought to identify the vehicle involved.