Hove British Engineerium fire 'could have been disastrous'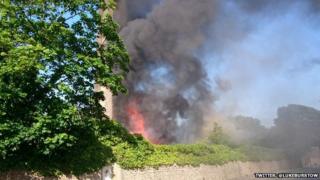 A fire at an engineering and steam power museum was "a nuisance rather than a disaster", its owner has said.
The blaze broke out at the British Engineerium, in Hove, on Thursday. It was not open at the time as it is undergoing restoration work.
Mike Holland said an outside wooden shed caught fire and the main building was only slightly affected by smoke.
"It could have been absolutely disastrous if the wind had been blowing in the opposite direction," he said.
Mr Holland added: "Fortunately the wooden shed was going to come down anyway.
"The fire did unfortunately heat up the secure container standing next to it which had some nice bits and pieces in, which is a great shame - some are damaged, but not beyond repair.
"It's a nuisance rather than a disaster."
Investigations are under way into the cause of the fire.
The museum is due to reopen to the public next year.